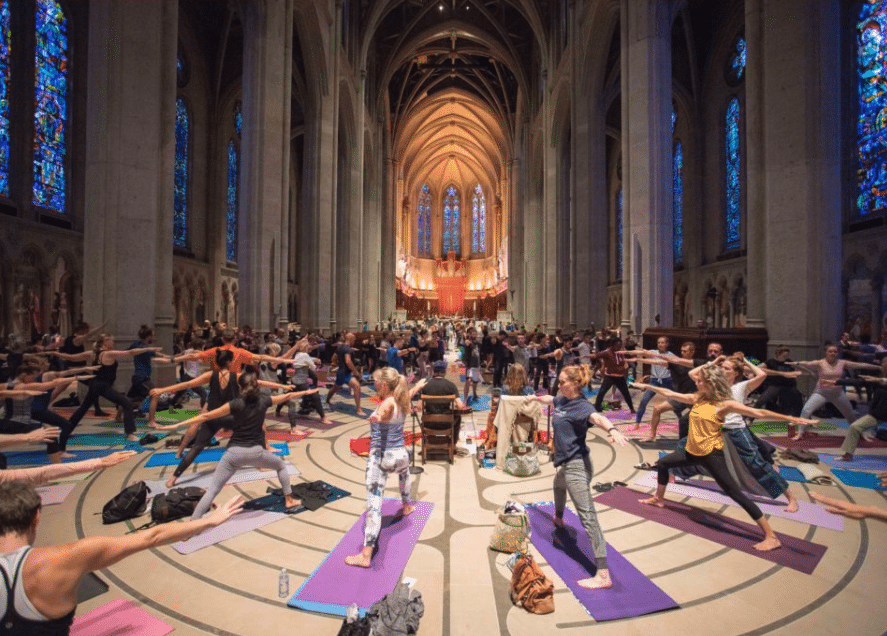 Join this weekly yoga class surrounded by the awe-inspiring architecture of Grace Cathedral. Set to live music from world-renowned musicians, this weekly yoga and meditation practice looks and feels like the amazing diversity of San Francisco itself. Darren Main is our main instructor, and we will also have monthly special guest instructors. 
Event Details
Tickets are required for entry. Doors open at 5:30 pm. The entrance to the cathedral is at the top of the Great Steps. The accessible entrance is via the glass doors on Taylor Street or from the cathedral garage.
Please bring a mat and any other yoga props you wish to use. 
This program is underwritten by Grace Cathedral and generous support from participants like you. Your support will help others and is greatly appreciated. We welcome all at Grace Cathedral. If you would like to practice and are unable to pay, please get in touch with us at yoga@gracecathedral.org at least 24 hours before the date you wish to attend. 
Refunds and Exchanges
Refunds will be granted if the requests are received 24 hours before the start of the yoga.
Requests to exchange a ticket for another date will be granted if received by noon on the day of the yoga.
Give to Grace
Your gift helps Grace Cathedral realize its vision: a spiritually alive world. Give to Grace Today!
Become a Cultural Member
Be one of the first to join this new program and enjoy discounts on a robust schedule of arts, music, cultural offerings, and more! Plus, you'll also support Grace Cathedral in its visionary activities and initiatives. Learn more.